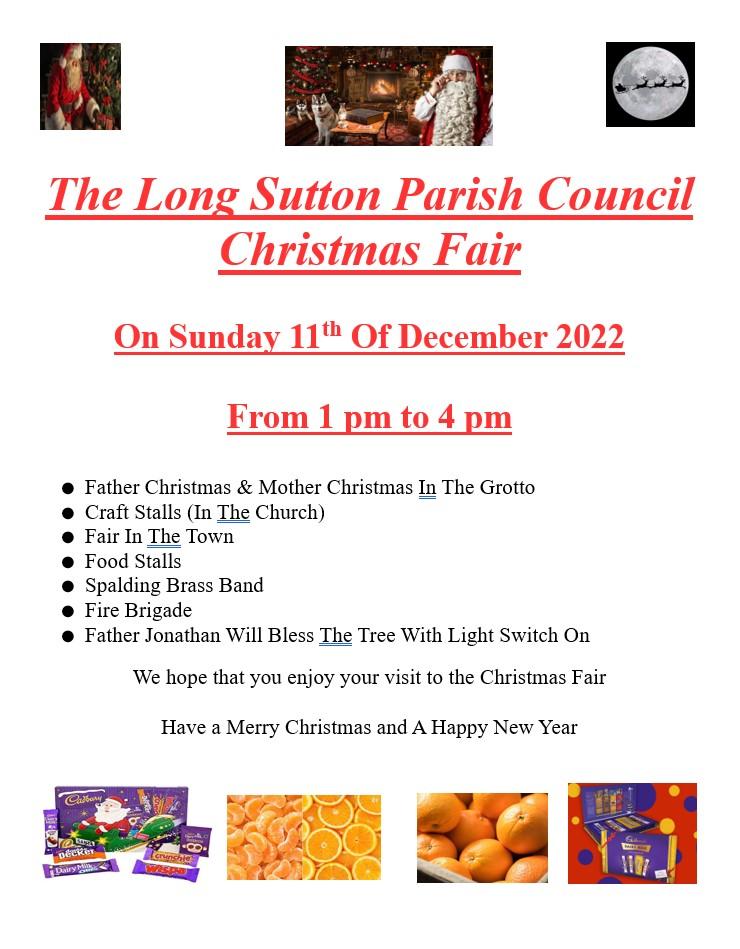 ---
CHRISTMAS ACTIVITIES DAY 2022
Despite the freezing fog and ice, the Parish Council pressed ahead with their annual Christmas event.
Unfortunately, the fun fair had to cancel at the last minute due to the adverse conditions however, over 300 children came to see Father and Mrs Christmas in St Mary's Church and each child received a gift from Father Christmas.
The Spalding Brass Band provided lovely background music in the church and 20+ craft stalls did brisk business throughout the day making the church a lovely warm hub of Christmas activity and cheer on an extremely cold day.
Long Sutton Army Cadets once who were a credit to the town and to the Cadets and thanks go to Staff Sgt Mick Flindall and his troop.
The Long Sutton Fire Brigade delighted youngsters by delivering Father and Mrs Christmas in spectacular style and stayed on during the event to allow youngsters to inspect the engine and enjoy the blue lights.
The Council wishes to thank Mr M Booth, a stall holder on Long Sutton Market who generously donated 400 satsumas for the children to enjoy along with their chocolate and the SPA Shop for donating many selection boxes to boost the Parish Council' supply.
Special thanks are given to the following traders of Long Sutton for so generously allowing the Parish Council to use their electricity supply free of charge for the town Christmas Lights especially in the financial crisis. Your continued support is very much appreciated and very welcome.
PARKWAY
ABIZ
POSSESSIONS
GEOFFREY COLLINGS AND CO
THE MARKET HOUSE
THE EYE GUIDE MC
Thank you everyone who helped and supported the event to enable it to go ahead and Father J Sibley for use of the Church for the event.
---
FOR PRESS REPORTS PLEASE PRESS THE FOLLOWING LINK:
https://www.spaldingtoday.co.uk/news/festive-cheer-filled-town-on-cold-afternoon-9289076/
---
CHRISTMAS WINDOW COMPETITION RESULTS
1ST – SEW LAST YEAR
2ND – PARKWAY
3RD – W.H. BROWN
---